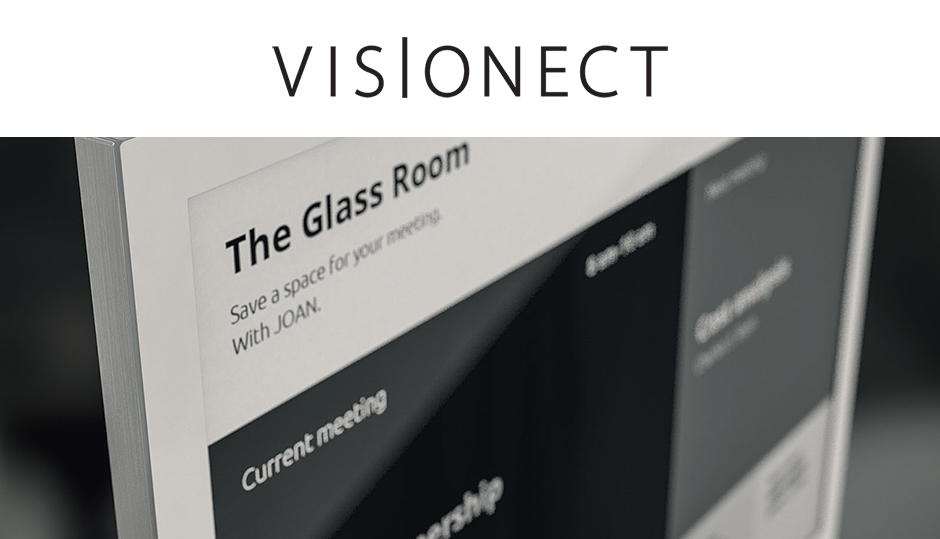 Leta 2007 ustanovljeni Visionect je vodilno podjetje na področju zasnove in razvoja digitalnih prikazovalnikov z izredno nizko porabo energije, ki delujejo na podlagi tehnologije elektronskega papirja. Poslanstvo podjetja Visionect je, da ljudem v javnih prostorih omogoči sprejemanje boljših odločitev s posredovanjem ustreznejših in pravočasnih informacij s pomočjo digitalnih prikazovalnikov, ki jih je mogoče preprosto namestiti na lokacijah, kjer doslej to ni bilo mogoče. Podjetje je znano po sistemu za rezervacije sejnih sob JOAN ter liniji izdelkov Place & Play, partnerstva z vodilnimi v panogi pa so obrodila vrhunsko tehnologijo signalizacije za promet in javni prevoz, maloprodajo, turizem, zdravstveni, izobraževalni, finančni sektor itd.
Podporni inženir: JOAN
Visionect, vodilno podjetje na področju zasnove in razvoja digitalnih prikazovalnikov z izredno nizko porabo energije, ki spreminjajo načine posredovanja informacij, išče podpornega inženirja za tablice za upravljanje sejnih sob JOAN, ki bo deloval kot prva oseba, s katero stranke navežejo stik.
Vaša vloga:
Visionectova rešitev za upravljanje sejnih sob JOAN je preprosta naprava, s katero lahko enostavno rezervirate in upravljate konferenčne in sejne sobe. Nameščena je na vrata sejne sobe in prikazuje podatke o sestanku. Za nameček jo je mogoče integrirati v že obstoječ spletni koledar. JOAN je na voljo v več kot 20 jezikih in v več kot 82 državah. Kot računalniški strokovnjak, ki si vselej prizadeva, da bi bili njegovi uporabniki kar najbolj zadovoljni, boste prva oseba, s katero stranke navežejo stik. Veščine dela z ljudmi so zato pomembnejše od vaše podkovanosti na področju IT. Odgovorni boste za obravnavo povratnih informacij in vprašanj ter izvedbo triaže pri tehničnih težavah. Povratne informacije strank boste posredovali produktni ekipi in tako zagotovili možnost za nadaljnje usmerjanje dela. Poleg tega boste proaktivno prepoznavali in navezovali stike z novimi uporabniki ter se prepričali, da jim rešitev JOAN prinaša kar največ koristi.
Ponujamo:
Zaposlitev na sedežu podjetja v Ljubljani s šestmesečnim poskusnim obdobjem.
Ustvarjalno okolje, v katerem boste lahko svobodno razmišljali, raziskovali in razvijali nove zamisli.
Vrhunsko usposobljene sodelavce in verjetno najmočnejšo kavo daleč naokoli.
Odgovorni boste za:
Vzpostavljanje odličnih odnosov s strankami.
Prvovrstno podporo strankam, ki temelji na odzivnosti, proaktivnosti in profesionalni komunikaciji.
Prepoznavanje in reševanje težav pri namestitvi, implementaciji in produkciji produkta.
Testiranje novih različic produkta, preverjanje fukcionalnosti najpogostejših primerov uporabe.
Prepoznavanje, organizacija in določanje prednostnih zahtev hkrati odprtih zahtevkov za tehnično podporo.
Zagotavljanje podpore strankam z vidika pravočasnega evidentiranja, spremljanja, razrešitve težav in nadaljnjega spremljanja.
Posredovanje težjih primerov višjemu podpornemu tehničnemu osebju.
Zbiranje in posodabljanje uporabniške dokumentacije, kar vključuje, a ni omejeno na izobraževalno gradivo, tehnične priročnike in najpogostejša tehnična vprašanja in odgovore.
Priprava in analiza poročil o zadovoljstvu strank z izdelki, storitvami in procesi.
Tesno sodelovanje z drugimi oddelki z namenom upoštevanja in izpolnjevanja želja strank.
Zagotavljanje pred- in poprodajne podpore strankam po telefonu ali na daljavo.
Spodbuden in odgovoren pristop k reševanju težav, tudi izven lastnega strokovnega področja in prevzemanje dodatnih sprotnih pobud in odgovornosti.
Zahtevane veščine, lastnosti in izkušnje:
Več kot leto dni izkušenj na področju podpore IT, upravljanja in vpeljave omrežij ali s podobnih področij.
Univerzitetna diploma po starem ali bolonjskem programu je dodatna prednost.
Izkušnje s področja prodaje programske opreme kot storitve (SaaS) oziroma prodaje IT ter dobro razumevanje IT panoge so dodatna prednost.
Izjemne sposobnosti ustne in pisne komunikacije, obvezno je odlično znanje angleškega jezika.
Sposobnost hitrega učenja in razmišljanja.
Podjetniški duh in miselnost, združena z visoko delovno etiko. Imate privzgojen čut za timsko delo in ste sodelavcem vsak trenutek pripravljeni priskočiti na pomoč.
Svojo prijavo v angleškem jeziku skupaj z življenjepisom v angleščini pošljite na naslov jobs@visionect.com.


Opis delovnega mesta


Opis delovnega mesta

Visionect, the premier designer and developer of ultra-low-power digital display solutions created on electronic paper technology, is looking for a support engineer for JOAN, our room booking display, to be the first point of contact for all customer inquiries.
Send your applications to jobs@visionect.com and include a CV.
Your role:
JOAN, the room booking solution from Visionect, organizes and reserves meeting room spaces with simple, easy-to-use devices that show meeting information at the door, integrating with the online calendars already in use. JOAN is available in 20+ languages, in over 82 countries.
A computer professional with a passion for making your users extremely happy, you will be the first point of contact for all customer inquiries. It is this skill that comes before your IT knowledge that makes you a success. You will be responsible for dealing with all feedback and questions, performing triage of any technical issues, and reporting to the product team to ensure we continue to learn from our customer feedback. In addition, you will proactively identify and talk to new users to ensure they are getting the most out of JOAN.
ms to ensure a scalable and repeatable model of experimentation and measurement.

Your responsibilities will include:
• Delivering extraordinary customer relationships.
• Delivering world-class support to our customers and partners by being responsive, proactive, and professional in all interactions.
• Troubleshooting and resolving installation, implementation, and production issues.
• Testing new releases to ensure common customer use cases are fully functional.
• Identifying, organizing and prioritizing multiple support requests at the same time.
• Managing support cases to ensure issues are recorded, tracked, resolved, and that follow-ups are done in a timely manner.
• Escalating difficult cases to senior support tech staff.
• Compiling and updating user documentation, including but not limited to training materials, technical manuals and technical support FAQs.
• Preparing and analyzing reports on customer satisfaction with products, services and processes.
• Working cohesively with other departments to ensure the customer's voice resonates in conversations.
• Providing pre-sale and after-sale support to clients by phone or remotely.
• Proactivity in solving problems, even when outside your area of expertise, taking on additional initiatives and responsibilities as they emerge.


Kaj pričakujemo


Kaj pričakujemo

Skills, attributes and experience required:
• More than 1 year of experience in IT support, network management & implementation or in a similar field.
• Bachelor's or university degree is a plus.
• Experience with SaaS sales or IT sales and a strong understanding of the IT industry are a plus.
• Exceptional verbal and written communication skills, with excellent English communication skills a must.
• Fast learning and quick thinking.
• Entrepreneurial spirit and mindset, paired with a great work ethic. An "everyone answers the phone" approach to teamwork and being a teammate are a must.


Kaj nudimo


Kaj nudimo

We are offering:
• Employment in our Ljubljana HQ, with a probationary period of 6 months
• A creative environment, freedom to think and explore, and to advance new ideas and thoughts.
• Top talent and probably the strongest coffee anywhere